This evening I went to meet a good friend of mine – Dave Bane. Dave is an Electronics engineer (now manager) who has been volunteering at Truro Amateur Operatic and Dramatic Society for many years. I first met him when I had just finished Secondary School and my mother, who was ever so good at giving me a little shove in the right direction just at the right time, suggested I see if I could get involved in the local AmDram society, to give me a little experience to prepare me for my Production Arts course at college. Dave was mainly a sound guy then but diversified as the previous long-serving lampy retired. We did a lot of shows together and I owe a lot of my early stagecraft skills to his teachings. Then I left for uni and started trying to earn money doing this stuff and so hadn't seen him in a while.
So one day a couple of weeks back I get this message via Facebook (our method of keeping in touch) asking if I wanted to help out on a great new play that the society were doing in March. Even if it was just some input on the lighting design.
Naturally I was quite flattered. Being asked by your former 'teacher' for advice and input is a wonderful compliment. I hadn't a great deal happening in March at that point so I agreed and asked what the play was.
'The Ladykillers – An Ealing Studios classic' came his reply. Unfortunately I hadn't heard of it but the rest of the message definitely got my attention: 'We have a fab set designed, with two revolves!' (he said roundels. Never heard that term before…)
Two revolves I thought! The society's stage is only about 5x6m incl. thrust, this was an ambitious project!
'I'll send you a picture of the model box' he said.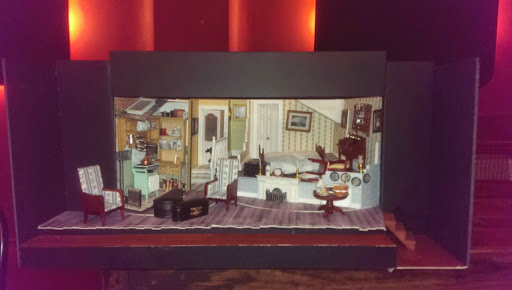 Interesting I thought.
You could just see the edges of the revolves. One supports the entirety of the bedroom, fireplace and 95% of the staircase, the other supports the kitchen.
'Pop in of a Tuesday and we can chat about it'
That Tuesday was today when I met with Dave, Rob Loosemore (Carnon Downs Drama Group LX) and Mike Meer (Director and Set Designer extraordinaire!) I saw the set half built with both revolves in place and the working model box is brilliant! The two revolves revolve (no kidding!) to reveal two sides of the house, the front door AND a tunnel! Pretty cool huh?!
Lets just hope that stage crew are up to the challenge!
The Design
So we sat down and started chatting about the requirements of the show and by the end had a list of about 10 practicals as well as various 'through door/window' lights.
We also spent a good deal of time discussing the best way to achieve a disappearing effect the details of which I shall not reveal just in case you go and see it!
This looks like an exciting project! I'll keep you updated!